Hearing aids have made significant strides by adopting cutting-edge technology.
However, these little hearing aids have a long list of features and technologies that need to be set for the hearing aid wearer. Understanding the patient's needs and selecting the right instrument with the right set of features and accessories is the first step of personalisation.
But the real trick in having satisfied hearing aid users and deriving the most out of their hearing aids requires a fair bit of understanding of audiology and the settings needed in the software.
It is for this reason that over-the-counter hearing aids and traditional analogue technology hearing aids have not been able to make a mark on the market.
In this article, we will delve into the importance of personalisation when utilising hearing aids and why it holds great significance for individuals who desire an enhanced quality of life through improved hearing abilities.
The Digital Revolution in Hearing Aids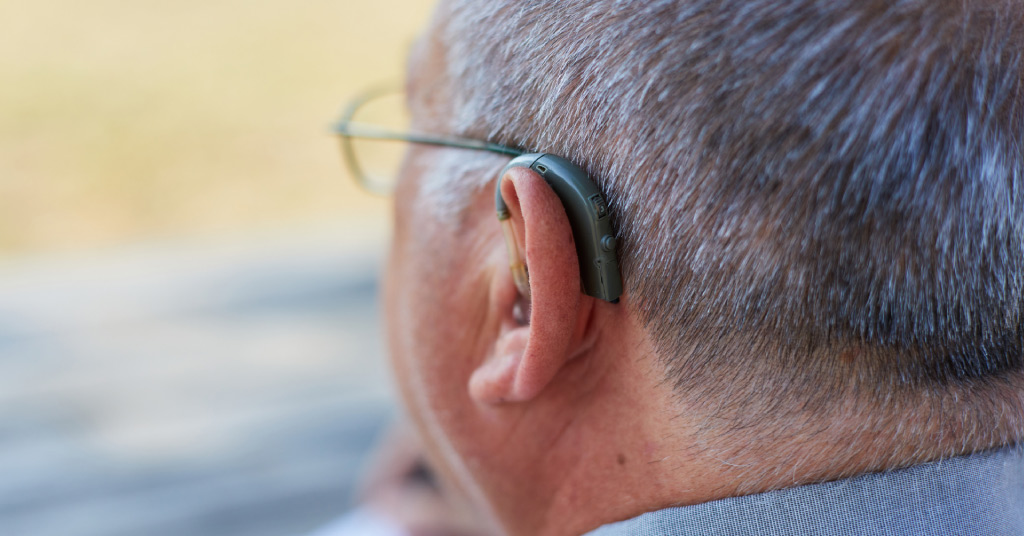 We now treat hearing loss with a completely different approach thanks to digital hearing aids. In contrast to their analogue counterparts, these devices transform sound waves into digital signals via sophisticated microprocessors.
A new age in audiology has been brought about by digital hearing aids, which allow people with hearing impairment to experience sound with unmatched precision. These gadgets include strong microprocessors that digitally process sound waves to provide a personalised audio experience.
This innovative turn towards personalising has had a significant impact on the lives of people with hearing impairments.
Understanding the Personalisation Process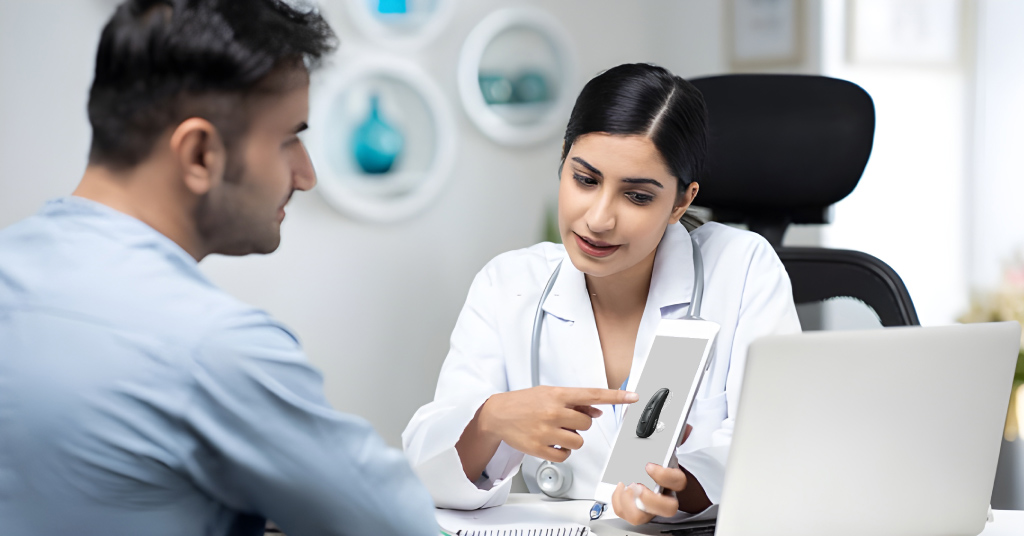 The following steps are commonly involved in the process of personalising digital hearing aids:
1. Case History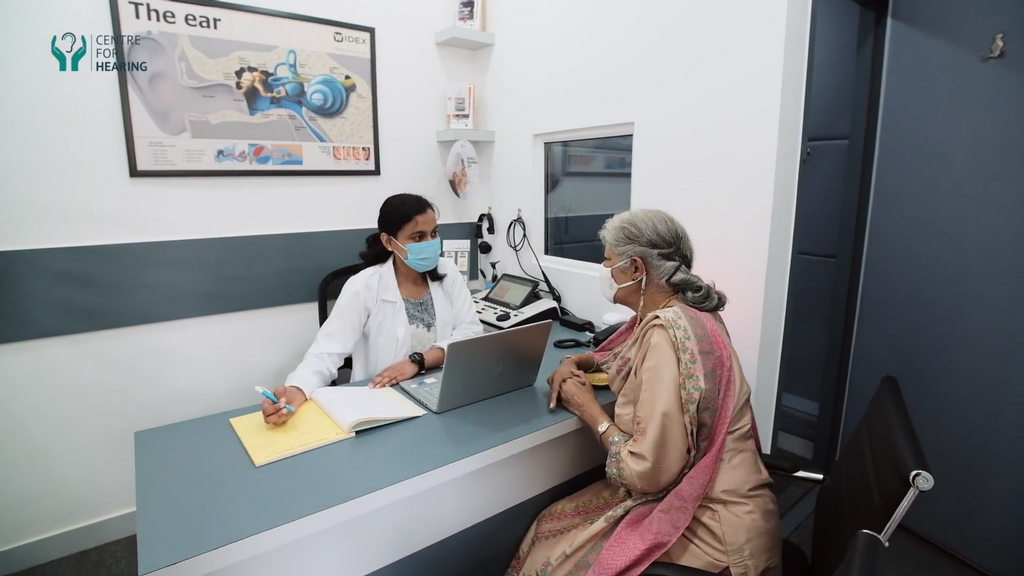 Taking a detailed case history is critical to understanding from the patient what their requirements, goals and expectations are of the hearing aids. This involves understanding the duration of hearing loss, any previous surgeries or ear infections, and an otoscopic examination.
2. Audiological Assessment
An audiological evaluation is the next basic step towards understanding an individual's hearing capabilities. This evaluation consists of a range of tests conducted to determine the extent and nature of any hearing loss. This valuable information serves as the foundation for developing a hearing profile.
3. Lifestyle and Environmental Considerations
The audiologist will also go over the user's everyday routine and environment – situations the person feels the hearing loss impedes their lifestyle, their lifestyle requirements (courtroom, parties, clubs, gym, etc). Knowing where and when the hearing aid will be used allows you to tailor the settings to specific listening scenarios.
4. Personalised selection of hearing aids 
There is a long list of hearing aids from 6 different major manufacturers to choose from. Once you decide on the right brand, you still have a range of price points and performance options to choose from. The range of digital hearing aids in India starts from Rs.19,000 per ear and goes upwards to Rs.385,000 per ear.
The six major brands are: Widex | Phonak | ReSound | Oticon | Signia | Starkey.
Click here to view our Ultimate Guide to Hearing Aids Pricing in India.
5. Customised hearing aids (in-the-canal options) or custom ear tips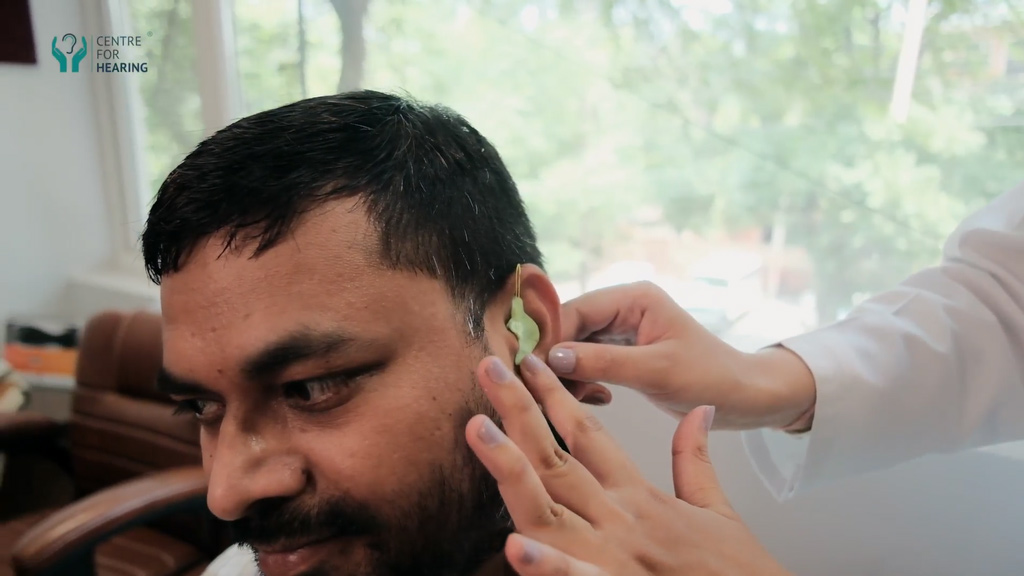 Often, your audiologist will recommend that an ear impression be taken for a custom tip or mould. These tips or moulds help with better managing occlusion (own voice issues), feedback (squealing from the hearing aid) and the ease of inserting or removing the instruments from one's ears
6. Fine-tuning
The hearing care specialist can modify the digital hearing aid settings based on the assessment and lifestyle data. Amplification, noise reduction, feedback cancellation, and directed microphones are a few examples of these settings.
7. Ongoing Adjustments
The process of personalisation never ends. Since hearing demands vary over time, it's critical to schedule routine follow-up visits with the audiologist to make sure the user's hearing aids are still meeting their needs.
Enhancing User Engagement: Exploring the Significance of Personalisation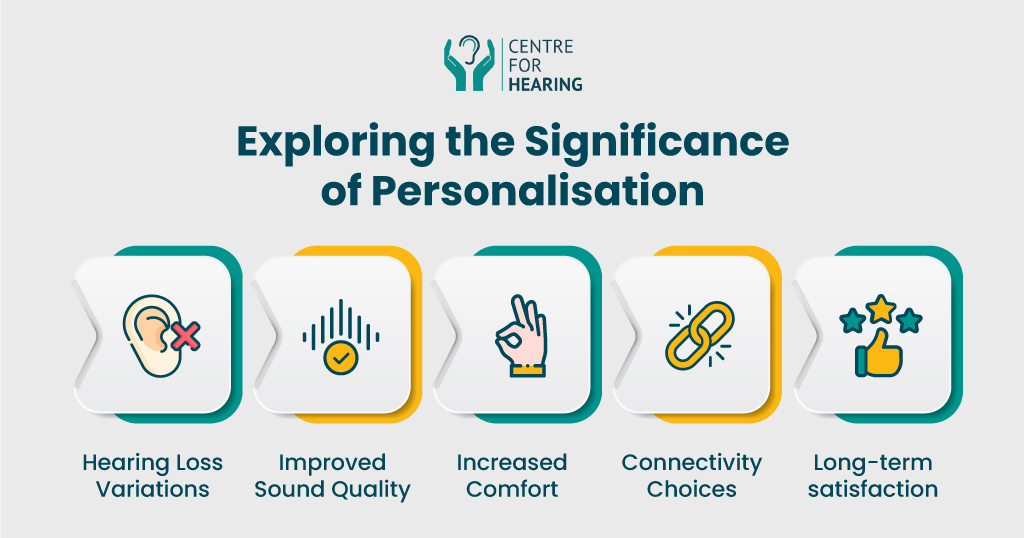 While digital hearing aid technology is unquestionably strong, its actual potential can only be realised via adequate personalisation. Making a device uniquely fit the wearer's requirements and tastes is known as personalisation.
In contrast to adopting a one-size-fits-all strategy, this process ensures that the user obtains the most benefit from their digital hearing aid.
Here are some key reasons why personalisation is critical when using digital hearing aids:
1. Hearing Loss Variations
Each person's experience of hearing loss is unique, with variations in causes, extent and frequency. Digital hearing aids offer the ability to create hearing profiles for users, allowing adjustments based on their individual needs. This customised approach is crucial in addressing the challenges faced by each individual.
2. Improved Sound Quality
Personalisation allows users to enjoy better sound quality. Digital hearing aids can be fine-tuned to improve speech clarity, eliminate background noise, and adapt to various listening situations, such as crowded restaurants or quiet libraries. It allows wearers to confidently participate in conversations, listen to music, and indulge in their favourite pastimes.
Hearing aids can considerably improve the overall listening experience by personalising these settings to the individual's preferences.
3. Increased Comfort
Improperly personalised hearing aids can cause discomfort and irritation. Users can experience improved comfort throughout the day by customising the device's fit and settings. Personalisation starts with a thorough hearing evaluation to evaluate the extent and severity of hearing loss.
This information is used to program the digital hearing aid to amplify sounds at the specific frequencies and levels specified by the user. As a result, the hearing aid restores audibility without over-amplifying certain sounds, decreasing discomfort and distortion.
4. Connectivity Choices
As digital technology advances, many hearing aids now provide connectivity choices to enhance the wearer's experience. Personalisation includes the option for hearing aid wearers to modify settings via smartphone apps or stream sounds straight from connected devices.
5. Long-term satisfaction
Personalisation promotes long-term hearing aid satisfaction. Users who can customise their devices and adjust to changes in their hearing are more likely to wear them regularly and report a higher quality of life.
Hearing loss is a degenerative disorder, and personalisation does not end with the initial hearing aid fitting. It is a continuous procedure that requires modifications and consultations with an audiologist on a regular basis. Personalisation guarantees that users' hearing aids do not outgrow them and that they can continue to benefit from them as their hearing needs change.
Personalisation: The Cornerstone of Digital Hearing Aid Advancements and Quality of Life Improvement
The lives of people with hearing loss have been significantly improved by digital hearing devices. But proper personalisation is the only way to unleash their full potential. Personalisation guarantees that the user's distinct hearing profile and lifestyle are considered, resulting in increased sound quality, comfort, and long-term contentment.
Digital hearing aids have gotten even more advanced with the incorporation of artificial intelligence, responding to changing situations and giving a smooth listening experience.
In conclusion, the Centre for Hearing's® dedication to enhancing the lives of people with hearing issues is based on the fundamental idea that personalisation is more than just a feature.
The Centre for Hearing® makes sure that every hearing aid solution is customised to the individual's specific hearing needs by providing globally recognised hearing aid brands, carrying out accurate audiometry exams, and avoiding low-cost and analogue alternatives. This method restores mental health, communication, and quality of life in addition to sound.
Centre for Hearing® is a leading chain of audiology and hearing aid dispensing centres in India. You can find a neighbourhood clinic near you from our long list of clinics in Delhi, Gurgaon, Mumbai, Chandigarh, Patiala, Jalandhar and Ludhiana.
To learn more, contact us today!