Our bodies change as we age, and hearing loss is a typical problem for many older adults. The World Health Organization (WHO) report says 432 million adults and 34 million children, or about 5% of the world's population, require rehabilitation to treat their hearing loss. By 2050, over 700 million people – or 1 in every 10 people – will have hearing loss. Hearing loss increases with age; among those older than 60, over 25% are affected by disabling hearing loss. Fortunately, technological innovations have resulted in the development of hearing aids that emphasise the comfort and convenience of senior citizens while simultaneously treating hearing impairments. This article delves into the latest design features in the hearing machine for old person emphasising how these developments enhance comfort and improve the overall hearing experience.
Importance of a Hearing Machine for Old Person
Hearing loss is a common problem among senior citizens and can majorly affect their daily lives. Thankfully, hearing aids have become an essential remedy for this problem:
1. Improved Social Interaction and Communication
Hearing aids help senior citizens regain their ability to communicate, reducing isolation and allowing them to participate actively in conversations. This improves cognitive function, mental health, and relationships.
2. Increased awareness and safety 
Hearing aids improve the safety of senior citizens by amplifying crucial sounds and enabling them to hear conversations and doorbells, detect alarms and vehicles. They become more conscious of their surroundings, which helps them avoid accidents and ensure prompt emergency responses.
3. Cognitive Benefits 
By using hearing aids, hearing loss's adverse impacts on the brain are minimised. A hearing machine for old person keeps the brain active and engaged, protecting cognitive functions and lowering the risk of cognitive decline and illnesses like dementia by sustaining auditory stimulation.
4. Preserving Independence 
Senior citizens who use hearing aids are better able to communicate and remain aware of their environment, which helps them maintain their independence. They remain competent at attending to their daily tasks, making 'sound' choices, and navigating their surroundings on their own.
Latest Design Features in Hearing Machines for Old Persons
The latest features in a hearing machine for old person have completely changed how we treat hearing loss in senior citizens. With a focus on comfort, functionality, and personalised fit, these sophisticated hearing devices encompass features to provide a comfortable and seamless hearing experience for older persons. Some of these features are as follows:
1. Ergonomic Design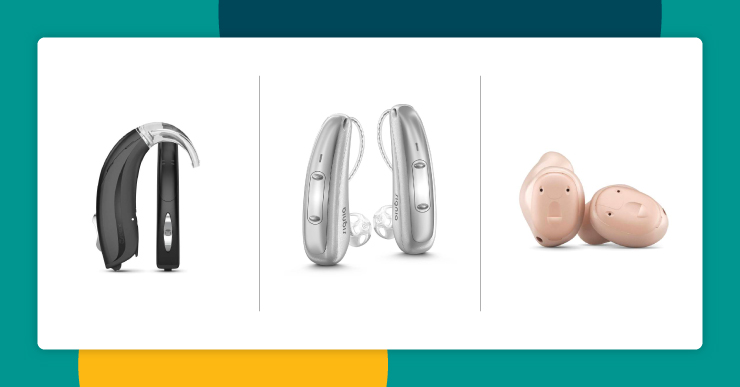 For senior citizens, comfort while wearing a hearing aid is essential. Today, ergonomic designs are given top priority by manufacturers to guarantee a secure and comfortable fit.
They are available in a variety of designs, including behind-the-ear (BTE), in-the-ear (ITE), and receiver-in-canal (RIC), enabling people to select the one that best meet their listening demands, communication demands and social activeness.
Many contemporary hearing aids come with earmolds that may be customised and shaped to the wearer's ear. This customised fit helps improve sound quality, reduce feedback, and enhance comfort.
Additionally, hearing aids are less noticeable because of their slender and covert forms, which enable seniors to wear them without feeling self-conscious.
2. Lightweight Materials
It can be uncomfortable and taxing to use a large hearing aid, especially for elderly people. Manufacturers are increasingly constructing hearing aids with lightweight materials like titanium and high-quality plastics to alleviate this concern.
In addition to making devices lighter, these materials guarantee longevity and resistance to sweat and moisture. Senior citizens can benefit from modern technology without being burdened or exhausted by their hearing aids.
3. Wireless Connectivity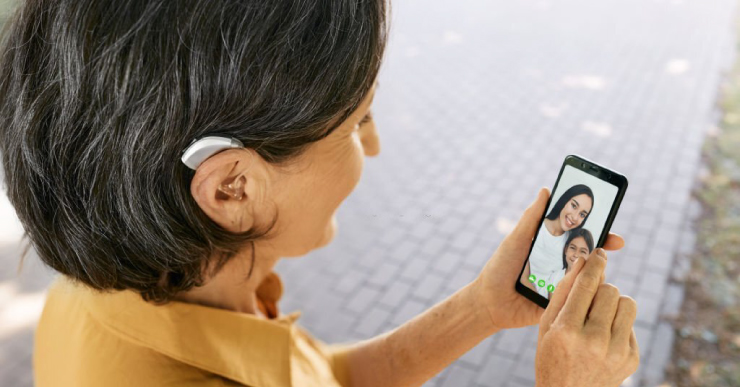 Modern hearing aids are now equipped with wireless connectivity options with enhanced speech processing. Senior citizens can use Bluetooth technology to enable seamless connectivity to smartphones, televisions, and other audio devices.
With the ability to stream audio directly to their hearing aids, senior citizens may now listen better and have more control over their surroundings. They can enjoy better sound quality, phone conversations, music, and television shows without having to deal with tangled cables.
4. Rechargeable Batteries
Small batteries can be difficult for elderly people to handle and need to be changed often. An easy approach is to use hearing aids with rechargeable batteries. These devices don't require new batteries because they can be charged overnight.
In addition to being environmentally friendly, rechargeable hearing aids additionally mitigate the possibility of unexpected power outages.  Seniors can easily charge their hearing aids in a dock overnight so that they are hassle-free to use the following day.
5. Smart Control Apps
Nowadays, a lot of hearing aids come with a smartphone app that adds more control and customisation choices. Senior citizens can use these applications on their cellphones to modify settings, adjust volume, and even find lost hearing aids. These apps' intuitive user interfaces make it simpler for older people to independently control their hearing aids.
Seniors can customise their hearing experience on their mobile devices with only a few clicks, offering maximum comfort and convenience. The addition of intelligent control applications improves the usability and accessibility of hearing aids, giving seniors more control over their auditory health.
6. Health tracking features
Moreover, modern hearing aids have features that combine intuitive health data tracking features. It helps users to track their activity in real time and understand the status of their physical health.
Health tracking features in hearing aids  allow health data tracking for:
Heart rate detection
Detecting fall/accidents
Stress tracking
Sleep monitoring
Activity tracking
Environmental sound monitoring
Smartphone integration to connect with specialized health apps
Conclusion
When it comes to addressing the specific requirements of senior citizens, a hearing machine for old person plays an essential role. The latest design features in hearing aids for elderly people put a priority on comfort, usefulness, and a higher quality of life.
Continuous innovation and improvement in hearing aid designs promise further enhancements, optimising comfort and meeting the unique needs of older people, thereby boosting their general well-being.
Centre For Hearing® stands as one of India's premier hearing care agencies, committed to providing top-notch services.
We understand the importance of consulting a reliable expert to find the most suitable solution for hearing loss. At Centre For Hearing®, we offer a wealth of pertinent, brand-agnostic information, valuable resources, an extensive range of high-quality hearing aids, and a free helpline to assist you along your journey.
Schedule your visit to the nearest Centre For Hearing® today and take a proactive step to help the senior family members hear better.