There have been a lot of advancements in hearing aids technology in recent times. Reports published in Markets and Markets have forecasted that the global hearing aids market size is projected to reach USD 10.2 billion by 2026. This indicates an increased adoption of hearing aids.
Hearing aids improve the wearer's quality of life and come in all shapes, sizes, and battery types. One has to have precise information regarding the pros and cons of the hearing aids they are investing in. Centre for Hearing®, a premier hearing care agency in India, advises consulting a reputed audiologist before buying any hearing aid online.
Rechargeable Hearing Aids: Pros & Cons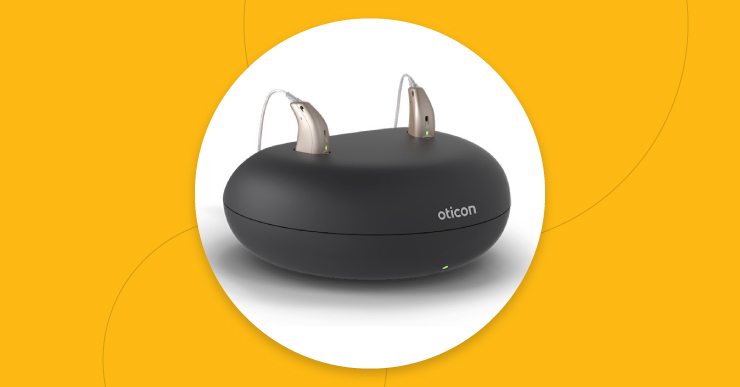 Rechargeable hearing aids have come a long way from their earlier iterations that drained batteries fast. Many prefer to wear and forget about changing batteries from time to time, whereas others like having replaceable batteries that last a bit longer when compared to rechargeable counterparts.
Pros of Rechargeable Hearing Aids
The following are the pros of rechargeable hearing aids:
1. Longer shelf life 
Most of the current models of Rechargeable In-The-Canal (ITC) hearing aids like Signia Insio, Signia Active Pro, and ReSound Earbuds use lithium-ion batteries. These are the same kind of batteries that power our smartphones, laptops, etc. Naturally, they have a longer shelf life and are thus worth the investment if considering rechargeable hearing aids.
2. No recurring charges
The cost of powering on your hearing aids comes included with the instruments. There is no running cost needing to spend on buying batteries every month.
3. Convenience
Once purchased, there is no hassle to open it and fiddle with the batteries consistently. Due to this repetitive task, many wearers prefer rechargeable Receiver-in-Canal models (RICs) like Phonak Paradise, Phonak Lumity (latest), Resound Omnia, Signia Pure, Signia Styletto. Furthermore, wearers can set apart a time slot to charge their hearing aids and then keep using them throughout the day.
4. No environmental hazards
Due to longer shelf life, fewer of these batteries are disposed of annually. Therefore the more users who adopt rechargeable ITCs and RICs, the better their contribution to the prevention of environmental harm.
5. Security
Pets and children are usually drawn to tiny objects and tend to swallow such things. Thus, households with kids and pets are much safer around rechargeable batteries. Also, senior citizens don't face any risk of dropping tiny batteries and misplacing them.
Cons Of Rechargeable Hearing Aids
Following are some of the cons of using rechargeable hearing aids:
1. Charging dependency
Rechargeable batteries create a dependency on a charging unit comprising an adapter and a socket. The hassle of recharging becomes cumbersome If the wearer is a frequent traveller. Instances like the charger getting misplaced or breaking down also add to the troubles. This eventually leads to having a spare set of hearing aids in cases of a breakdown.
2. Elevated replacement charges
If the batteries break down, they incur a considerable cost to replace. These upfront charges are bothersome and constitute a significant factor that makes many reluctant to opt for them.
3. Lack of style options
If the wearer prefers hearing aids that fit inside the ear, there are a few design options for rechargeable hearing aids. Most rechargeable ones are worn behind the ear, and the ones that fit inside the ear are a bit expensive.
4. Higher adoption cost
Rechargeable hearing aids often cost more than ones with replaceable batteries. The higher adoption cost coupled with replacement charges can stack a higher bill.
Battery Powered Hearing Aids: Pros & Cons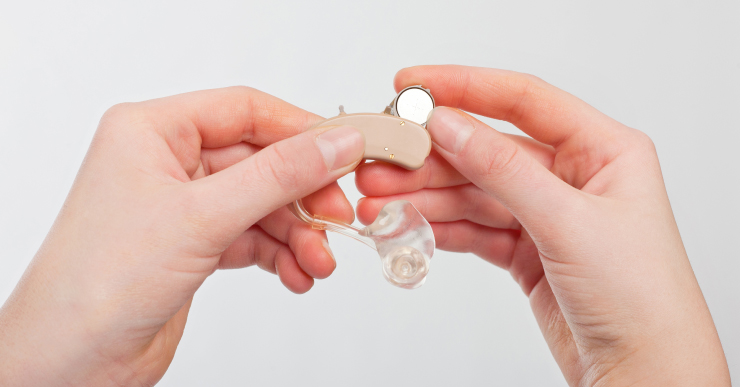 Battery-powered hearing aids are a traditional form of hearing aids. They are favoured for their robustness and simplicity, leading to a higher adoption rate than their rechargeable counterparts. Many users are accustomed to their straightforward operation and are likelier to recommend it to their acquaintances.
Pros of Battery Powered Hearing Aids
The following are the upsides of using battery-powered hearing aids:
1. Longer battery life per usage
The best aspect of using battery-powered hearing aids is the duration of use. A single battery lasts about 3 to 10 days, depending on the hours of use per day and the brand. This is ideal for anyone who prefers to wear a hearing aid and not bother with the charging. Centre for Hearing® offers a detailed guide on extending the battery life.
2. Low replacement cost
If the battery dies out prematurely, the cost of procuring a new one is negligible. There is no charging unit that eliminates the risk of it breaking down and adding to the hassle. Battery-powered hearing aids thus blend in cohesively with the wearer's lifestyle.
3. Better portability
Batteries used in non-rechargeable hearing aids are button cells. These batteries are too compact and easy to carry around. People who are frequent travellers prefer having these spare batteries with them. They are much better than depending on a charger and a power outlet to keep the hearing aids operational.
Cons Of Battery Powered Hearing Aids
There are some downsides to battery-powered hearing aids as well:
1. Safety hazards
Since battery-powered hearing aids use small button cells, it gets cumbersome to manage them at times. Furthermore, it might get tricky for senior citizens to tinker with the battery slots constantly. These button cells are also more prone to be lost and misplaced. In a household with pets and children, there is a risk of them swallowing it or misplacing it.
2. Environmental hazards
Since these button cells are one-time use, a higher amount is disposed of daily. They contain zinc, cadmium, and or mercury, and their improper disposal results in air pollution and groundwater contamination.
3. Unpredictable battery drains
Wearers must be on their toes to replace the batteries at any moment. This could cause inconvenience if the battery drains out during a busy day. Consequently, wearers are forced to keep a spare set of batteries ready.
Centre for Hearing® strictly recommends consulting an experienced audiologist before buying hearing aids. Centre for Hearing® also believes in keeping the masses up to speed with all the pertinent information before purchasing a hearing aid.
Wrapping It Up
Both rechargeable and battery-powered hearing aids have their specific use cases. Assess all the factors rigorously and then consider buying any that suits your needs and lifestyle.
Centre for Hearing® offers state-of-the-art facilities and audiometry testing centres spread across India. Besides expert advice, we also deal with internationally renowned hearing aid brands.
Get in touch with us to know more!