More than 1.5 billion people live with hearing loss, who make up 20% of the world's population. As a health complication, it can be appalling and debilitating. Besides losing one of the most crucial senses, getting used to hearing aids could be daunting for many. However, the right hearing aid can manage this condition much better. Behind-the-ear hearing aids are the most popular option among all hearing devices. They help in better sound amplification and are easy to maintain and wear. But like any other hearing aid, they also have some limitations.
In this article, we explain what kind of needs behind-the-ear hearing aid are most suitable for. We will highlight some of its advantages and concerns that would help you make an informed choice before adopting a proper device.
Let's explore hearing aids in more detail.
What Is a Behind-the-Ear Hearing Aid? 
As the name suggests, a behind-the-ear hearing aid is worn outside your outer ear. The device's parts are contained in a plastic case and rest behind the ear. A small tube goes through a narrow inner ear canal that helps the sound travel down into your ear canal.
Behind-the-ear hearing aids are among the most commonly found devices in the market and are considered the most versatile of all types of hearing aids. These aids are helpful in almost all kinds of hearing loss.
However, one should choose them only after careful consideration and depending on the expert audiologist's advice.
5 Notable Advantages of Using a Behind-the-Ear Hearing Aid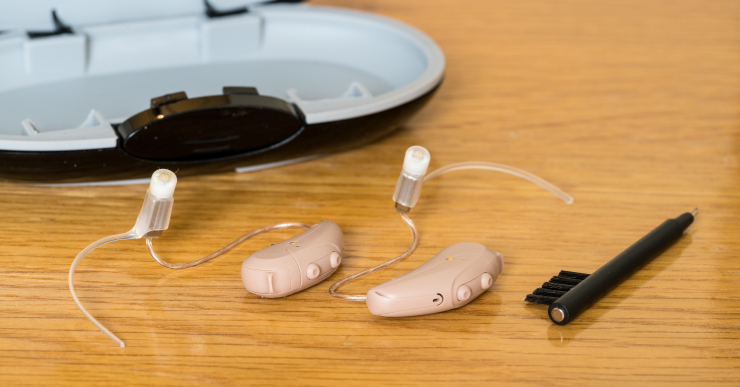 Behind-the-ear hearing aids are usually larger than other hearing aids but come with many benefits. For example:
1. Good battery life
Due to their larger size, these hearing aids allow more space for high-capacity batteries. Hence as compared to other hearing aids, these have better battery life. BTE hearing devices also enhance sound amplification, which is helpful for users with varying degrees of hearing loss, as better amplification can help detect higher frequencies.
2. Easy maintenance
The smaller hearing aids can be difficult to clean and maintain. With behind-the-ear hearing aids, the advantage is that every nook and cranny can be easily cleaned due to its slightly bigger size. The various components of the hearing aid can be removed for cleaning, making it much easier to maintain. Also, being placed on the outer ear, the device is safe from ear wax build-up.
3. Comfortable to wear
Behind-the-ear hearing aids fit nicely on the outer ear and don't cause any intrusion in the inner ear, making them safe and comfortable to wear.
4. Scope for adding more features 
Its bigger size gives space and scope to add additional features to the device, like directional microphones, telecoils, Bluetooth connectivity, rechargeable features, and more.
5. Cost-effective
BTE hearing aids are usually the most budget-friendly of all hearing devices.
Consider These Issues Before Using a Behind-the-Ear Hearing Aids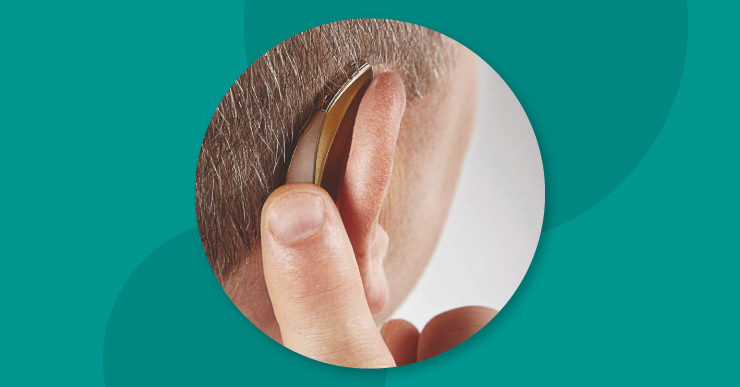 Despite their numerous benefits, behind-the-ear hearing aids may also have some limitations. Such as:
1. Look and Feel
Since these hearing aids are placed behind the ear, they tend to stick out and are more visible than internal hearing devices. However, they come in different variants and are always comfortable to wear.
2. External noise
Since behind-the-ear hearing aids are placed outside the ear, they might tend to pick up a lot of external and background noise, which can be disturbing. For example, users are prone to experience wind noise issues when using these hearing aids in open spaces.
3. Size
For some people, these hearing aids can be cumbersome due to their comparatively bigger size, and they prefer choosing a sleek hearing aid instead. However, you can always choose the best hearing aid for yourself after a visit to our audiologist.
4. Not for people with acute hearing loss
Many users have found that other hearing devices offer better amplification and sound amplification than BTE hearing aids in cases of high hearing loss.
Final Thoughts
Now that you know the outstanding advantages and a few concerns of behind-the-ear hearing aids, you can decide if it suits your needs.
However, it is advisable to take the opinion of your physician or the audiologist before investing in any hearing aid to ensure it works best for your particular preferences and condition.
Centre For Hearing® has 40 years of expertise in providing the best hearing care and aids in the industry. We have a vast network of clinics all over India.
We also provide specialised audiometry tests and a free helpline to address all your concerns and queries related to hearing issues.
Reach us at +91 9811227269 or visit our website to get assistance in managing your hearing health better.