Today's technologically advanced society, where innovation knows no bounds, frequently witnesses the fusion of commonplace items and assistive technologies. One such development was when Apple introduced the built-in Hearing Aids Application for the iPhone. It instantly prompted interesting conversations about its potential to replace conventional hearing aids.
The question that broods large is whether AirPods and similar devices can replace modern hearing aids.
In this blog post, we will explore the capabilities and highlight the limitations of the iPhone's in-built hearing aids application to determine if it can serve as a viable alternative to hearing aids.
Understanding the iPhone's In-Built Hearing Aids Application
The iPhone's in-built hearing aids application works in conjunction with AirPods to provide enhanced hearing assistance for individuals with hearing impairments.
Apple made this app to make it easier for people with hearing problems to hear better. They included it in their accessibility features.
Features of iPhone's In-built Hearing Aids Application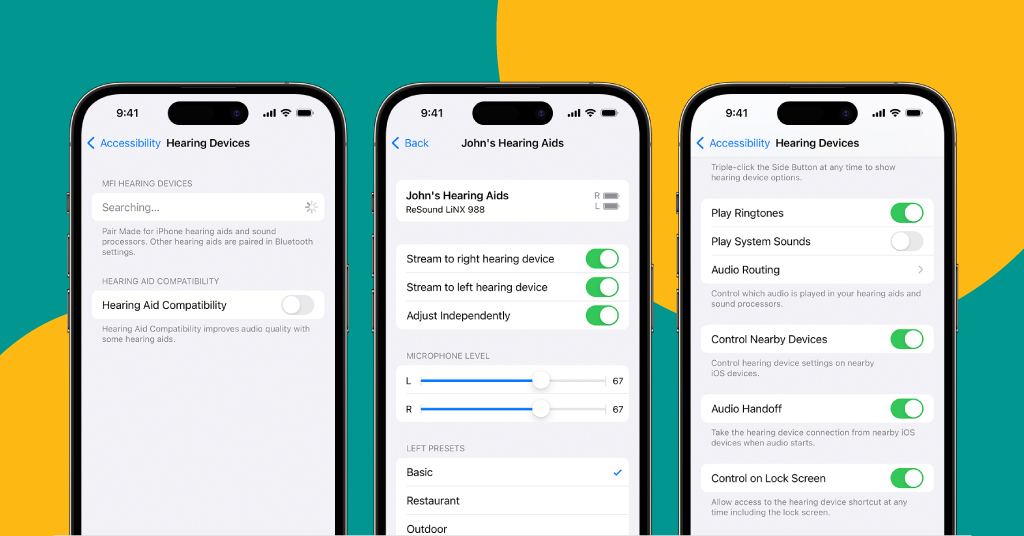 The iPhone's hearing aid app offers several features designed to provide enhanced hearing assistance for individuals with mild to moderate hearing loss. These features include:
Live Listen: It helps users hear speech more clearly in noisy environments and can be controlled from the control centre on any iOS device.
Conversation Boost: Available in AirPods Pro, Conversation Boost uses microphones to focus on the voice of the person in front of you, making it easier to follow conversations in loud or crowded places.
Noise Cancellation and Transparency Mode: AirPods Pro feature active noise cancellation for reducing background noise and Transparency Mode to hear ambient sounds, enhancing situational awareness.
Amplified Audio: AirPods can amplify softer sounds while reducing loud background noise, providing a balanced auditory experience for users with hearing impairments.
Customisable Sound Profiles: Users can customise their AirPod sound profiles using the Mimi app, conducting a hearing test and adjusting audio settings to match their specific hearing needs.
Bluetooth Integration: Seamless integration with Apple devices via Bluetooth allows users to control AirPod settings from their iPhone, iPad, or Apple Watch.
Comparing iPhone Hearing Apps & Hearing Aids: The Undeniable Edge of Traditional Devices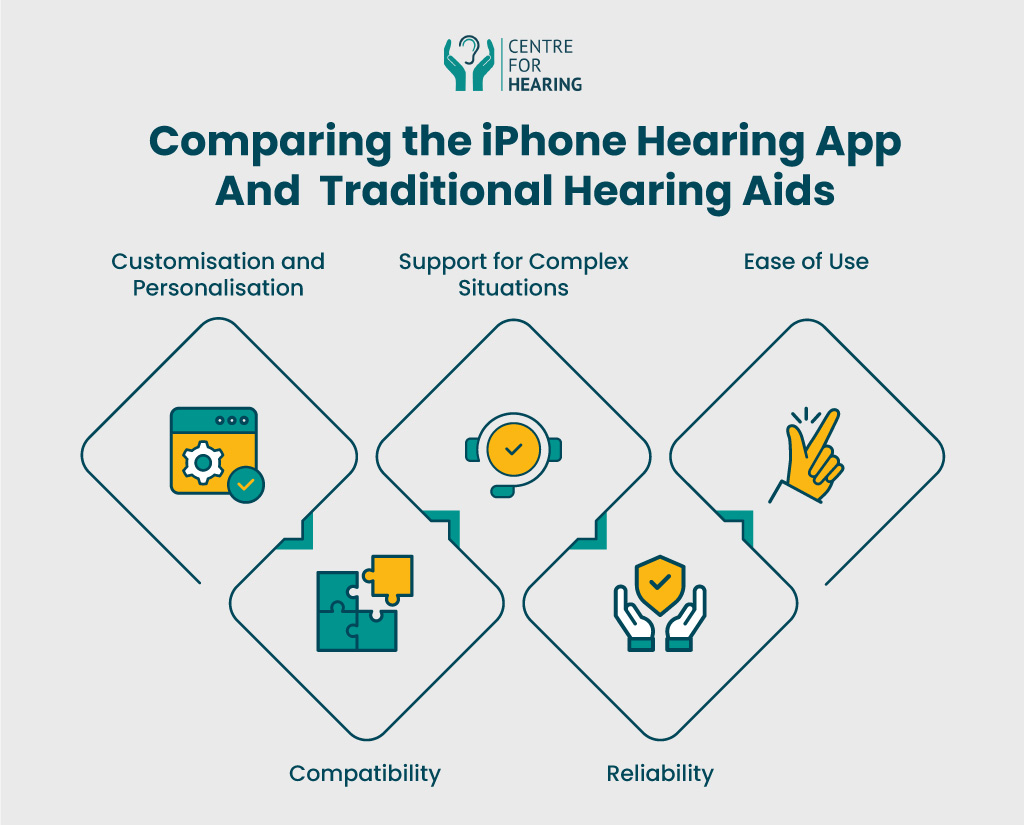 iPhone hearing apps have drawn attention due to their potential to enhance hearing in the constantly changing world of hearing assistance technology.
However, when it comes to addressing hearing difficulties holistically with expert guidance and effective remedial measures tailored to each patient, traditional hearing aids remain the superior choice.
Let us compare iPhone hearing apps and hearing aids, highlighting why hearing aids are the preferred choice.

1. Customisation and Personalisation
iPhone Hearing Apps:
These apps, while offering basic customisation options, lack the depth and precision that advanced hearing aids provide. Expert audiometry exams are essential to understand each individual's unique hearing profile fully, and iPhone apps cannot match this level of personalisation.
Hearing Aids: 
Advanced hearing aids are tailored to an individual's specific hearing needs through comprehensive testing and personalised adjustments.
For example, the Centre for Hearing® holds customisation in the highest regard when addressing hearing difficulties. Expert audiometry exams are required to fully comprehend these variations because each person's hearing profile is distinct.
2. Compatibility
iPhone Hearing Apps:
These apps are primarily designed for use with Apple devices. Compatibility can be limited for those who use Android smartphones or hearing aid brands other than those endorsed by Apple.
Hearing Aids:
Traditional hearing aids are available in a wide variety of models and brands, offering free-ranging compatibility with smartphones and devices. Due to their versatility, users can select the hearing aid that best suits their own requirements and preferences.
3. Support for Complex Situations
iPhone Hearing Apps:
While iPhone apps provide some assistance in challenging listening environments, they may fall short for individuals with significant hearing conditions, such as severe hearing loss or tinnitus.
Hearing Aids:
The quality of life for people with challenging hearing disorders is considerably improved by the specialised features that advanced hearing aids offer, such as digital channels, noise cancellation, directional microphones, and feedback reduction.
4. Reliability
iPhone Hearing Apps: 
The performance of iPhone hearing apps may be inconsistent in specific environments or when real-time adjustments are necessary.
Hearing Aids:
Modern hearing aids are made to work really well all the time, so you don't miss important sounds and conversations. Furthermore, professionals are always available to help, which may be quite advantageous for senior consumers.
5. Ease of Use
iPhone Hearing Apps:
While smartphone technology has become more user-friendly, using iPhone apps and Bluetooth technology may still present a learning curve. For folks who are not tech-savvy, pairing devices, changing settings, and resolving issues might be challenging.
Hearing Aids:
Hearing aids are designed to be user-friendly and discreet, making them accessible to individuals of all technological backgrounds. They are typically straightforward to operate.
Bottom line: Which one Should You Choose? 
The iPhone hearing aids app has advanced accessibility for those with hearing impairments. However, when it comes to a comprehensive solution that offers superior customisation, compatibility, support for complex situations, reliability, and ease of use, traditional hearing aids from authentic hearing care facilities remain the preferred choice.
Moreover, opting for advanced hearing aids is an investment in one's overall well-being, enhancing relationships, productivity, and emotional well-being. Therefore, prioritising hearing health is best achieved through expert hearing aid solutions that address individual needs effectively.
Mind the Gap: Is the Price Difference Worth It?
Despite the apparent cost-effectiveness of the iPhone's Hearing Aids Application, it is crucial to take the long-term advantages of purchasing high-quality hearing aids into account.
Some people may still find the iPhone price ranges prohibitive, particularly those with fixed or low incomes.
Moreover, the need for a compatible Apple device, such as an iPhone or iPad, to fully utilise AirPod features adds to the overall expense.
Therefore, the choice should be based solely on needs and a practical approach to hearing care. Traditional hearing care establishments are known to offer a range of crucial services, from detection to solution.
On top of that, their brand-agnostic approach could help you secure the most suitable device, along with dedicated after-sales service and comprehensive care.
Choosing Modern Hearing Aids for a Brighter Future
While the iPhone's in-built Hearing Aids Application represents a commendable effort by Apple to enhance accessibility for those with hearing difficulties, it cannot wholly supplant the flexibility and range of advanced hearing aids.
Therefore, it is crucial to consider using expert hearing aid solutions due to the restrictions in customisation, compatibility, support for complex situations, and reliability.
At the Centre for Hearing®, we're dedicated to always offering you the best hearing aids with advanced features and personal care.
Our hearing aids are a long-term investment in one's overall well-being. When your hearing improves, your relationships, productivity, and emotional well-being can all improve. This is something that benefits you now and later on.
The Centre for Hearing® offers a variety of price choices to fit a variety of budgets, and the value of increased hearing and quality of life is unforeseen.
Centre for Hearing® encourages individuals to prioritise their hearing health by scheduling a hearing test with one of our dedicated audiologists.