Do you find yourself turning up the TV volume very often? Do you feel people around you are always whispering?
You could be suffering from hearing loss. Although it's more common than we'd like to admit, the social stigma associated with it often leads to people trying to conceal the disorder. However, treating it requires proper diagnosis and identifying the type and degree of hearing loss.
Although certain types of hearing loss can be treated with surgery, hearing aids also help restore hearing to a certain extent. Hearing aids are small electronic devices that a hearing impaired person can wear in or behind the ear.
Let's understand hearing aids in detail.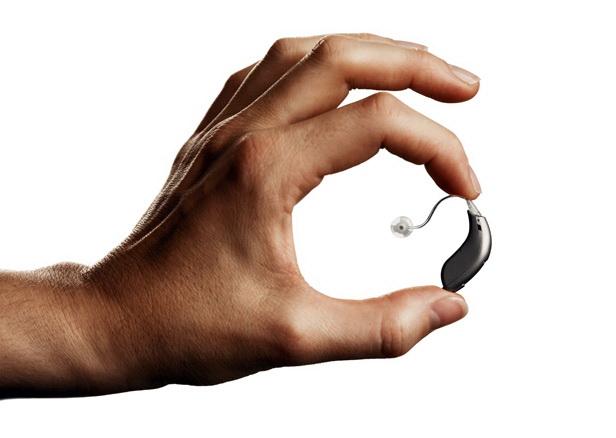 A Decibel Of Hope: Understanding Hearing Aids Work
A hearing aid has three basic parts: a microphone, an amplifier, and a speaker. The hearing aid receives sound through a microphone, which converts the acoustic (sound) signals into electrical signals, and transmits them to the amplifier.
The amplifier then increases the strength of the electrical signals. The speaker converts the electrical signals back into acoustic signals and relays the same into the ear canal, either through a small tube or through an ear mold. A hearing aid is powered by a special battery, that typically lasts between 5-14 days.
Depending on the size and style, some hearing aids also have additional controls like an earmold, an ear hook, an air vent, a volume control, a memory control, a telecoil and a wax guard.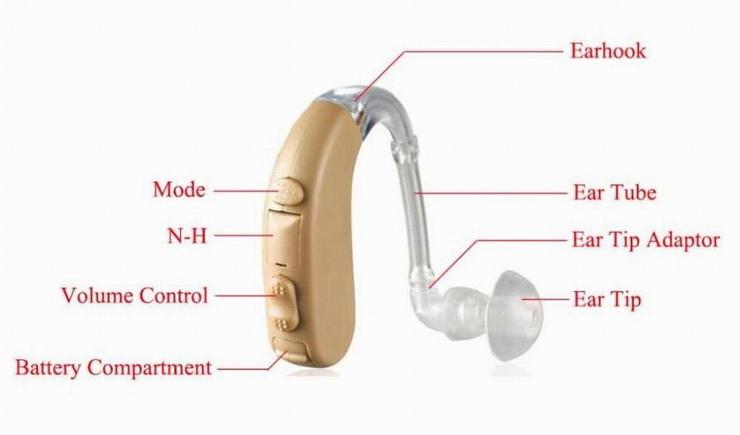 Ear hook
The ear hook is a clear plastic attachment that connects to the hearing device and loops over the top of the ear.
Earmold
An earmold is a custom in-the-ear piece that is attached to the hearing aid in order to help contain the sound within the user's ear.
Air Vent
The vent is a hole that goes all the way through a hearing aid or earmold, that allows for airflow in and out of the ear to prevent infection.
Wax Guard
A wax guard is a small filter that catches the earwax and prevents it from getting into the electronic components of the hearing aid.
Volume Control
This allows a user to control the loudness of sounds. However, most hearing aids, these days, offer volume control via a mobile app or wireless accessories.
Memory Control
Memories refer to the various environmental programs that can be accessed by the hearing aid user. These memories manipulate the hearing aid's gain (amplification), frequency response and the microphone mode (directionality) to provide optimal sound quality in specific listening situations.
A memory control allows the user to switch between memories that have been pre-programmed into the hearing aids for a variety of environments. Like the volume control, this facility is also provided via mobile apps and wireless accessories.
Telecoil
A telecoil is a small magnetic sensor, that allows hearing aids to connect directly to different sound sources like a telephone or a public address system. In specific situations, a telecoil offers sound quality improvements over a traditional microphone allowing the hearing aid user to hear the desired signal more easily, particularly in environments with background noise.
Although all hearing aids essentially have the same parts, they are available in a number of different styles, based on the size and the manner in which they are placed in the ear.
Here are the common types of hearing aids…
Types Of Hearing Aids: Which One's Right For You?
It is ideal to choose a hearing aid after consulting the audiologist, based on the type and degree of hearing loss, and other needs. The popular ones are mentioned below.
1. Completely In The Canal (CIC) Hearing Aids:
As the name suggests, CIC hearing aids are molded to fit inside the ear canal, with only a small portion of the face visible, making them very difficult to notice.
A small speaker rests on the back of the aid, with the microphone and battery door on its face. A tiny cord helps you remove or wear the device.
A CIC hearing aid:
Pros:
Is useful for those who suffer from mild or moderate hearing loss.
Is less likely to pick up the noise of the wind, since the ear protects the device.
Is easy to use for telephonic conversations.
Has low feedback (sound of the device processing and amplifying its own operating sounds.
Cons:
Is prone to earwax and moisture build-up.
Uses small batteries, which don't last very long.
Is not advisable for young children.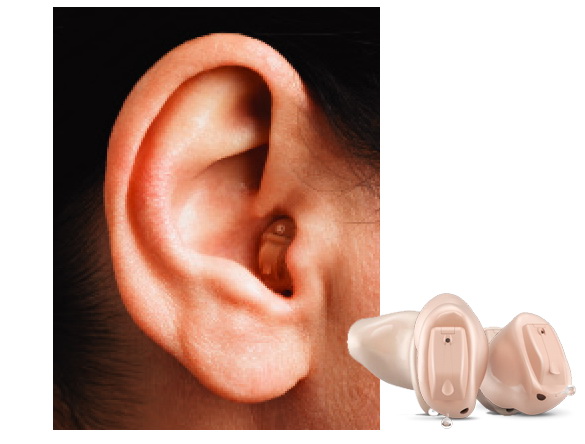 2. In The Canal (ITC) Hearing Aids:
In The Canal (ITC) hearing aids are slightly larger, and extend a little farther out than CIC hearing aids. However, due to their slightly larger size, ITC hearing aids can accommodate more features than CICs. Like CICs, these hearing aids are also custom fit for your ears.
An ITC hearing aid:
Pros:
Is useful for mild to moderate hearing loss.
Is partially visible in the ear.
Is easy to use for telephonic conversations.
Has low feedback, like CIC devices.
Cons:
Is prone to earwax or moisture build-up.
Includes features that won't fit on CIC hearing aids, but is too small for the user to adjust the features.
May not fit well in smaller ears.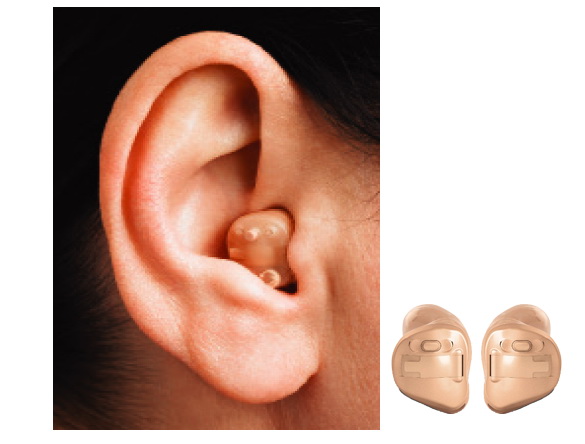 3. In The Ear (ITE) Hearing Aids:
In the Ear (ITE) hearing aids, also referred to as full shell hearing aids, are custom made and fill the entire bowl of the ear. These can be removed and adjusted with ease.
An ITE hearing aid:
Pros:
Suits people with mild to severe hearing loss.
Is somewhat conspicuous.
Is easier to insert in the ear.
Has convenient controls such as volume control.
Uses larger batteries that typically last longer.
Might have a telecoil, that helps people hear in public places having special sound systems called induction loop systems.
Cons:
Can create a 'plugged up' feeling – also known as the 'occlusion effect'.
Is also susceptible to moisture-related problems.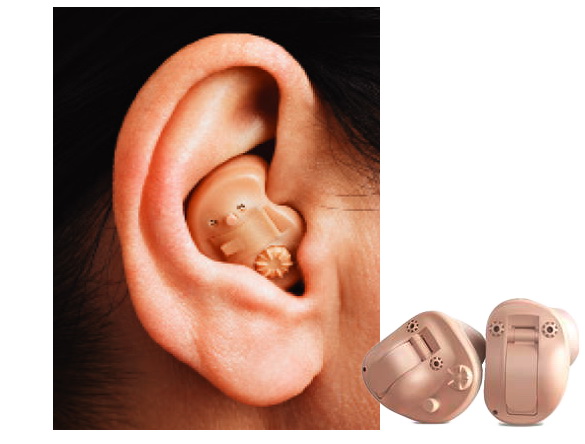 4. Half Shell Hearing Aids:
Half Shell hearing aids are slightly bigger than ITC hearing aids, and fill the lower portion of the bowl-shaped area of your outer ear.
A half shell hearing aid:
Pros:
Is slightly easier to handle than smaller hearing aids like CIC and ITC hearing aids.
Includes additional features like directional microphones (filters out all other noises except the direction from which the sound originates) and volume control.
Fits most ears.
5. Behind The Ear (BTE) Hearing Aids:
The most familiar hearing aid type, BTE hearing aids are housed in a durable case that rests on the back of the outer ear. This type of hearing aid picks up the sound amplifies it and carries the amplified sound to an earmold that fits inside your ear canal.
A BTE hearing aid:
Pros:
Is useful for all types of hearing loss, from severe to profound.
Is capable of more amplification when compared to other types.
Is suitable for all age groups – recommended for children.
Cons:
Is more visible and sensitive to wind.
There are two types of BTE hearing aids:
Closed fit: These hearing aids use a fitted ear mold that fills the outer ear. Although they are larger than open fit hearing aids, closed fit BTEs are easier to handle because they seal the auditory canal, which minimizes the feedback experienced by hearing aid users. These are the regular BTE hearing aids.
Open fit: These contain a thin plastic microtube that extends over the outer ear and into the ear canal. In addition to being small and cosmetically appealing, the open fit tube avoids the "stopped up" (occlusion) feeling of ITE hearing aids. An Open Fit BTE:
Pros:
Is suited to mild to moderate hearing losses.
Is less visible.
Cons:
Often lacks manual adjustments due to small size.
Uses small batteries.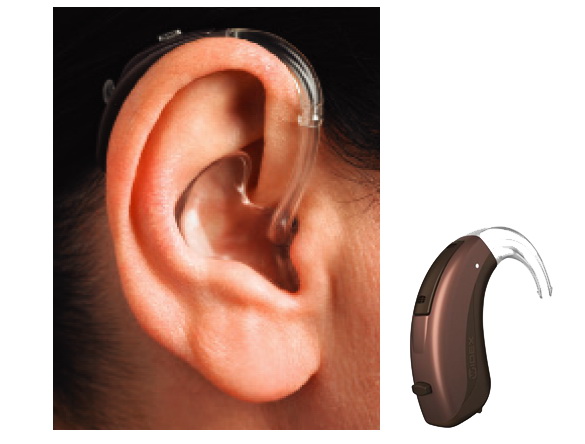 6. Receiver In Canal (RIC) Hearing Aids:
Receiver In Canal (RIC) hearing aids look very similar to the open fit BTEs. But instead of resting behind the ear, the receiver is placed within the ear canal. Since the receiver is no longer a part of the BTE unit, but is connected to the BTE component via thin tubing, the BTE unit is particularly light and inconspicuous.
A RIC hearing aid:
Pros:
Avoids the 'clogged up' feeling (occlusion effect).
Is virtually invisible owing to the nearly invisible tubing.
Is suitable for those with mild to moderate hearing loss.
Cons:
Is sensitive to wind noise.
Is susceptible to damage due to moisture.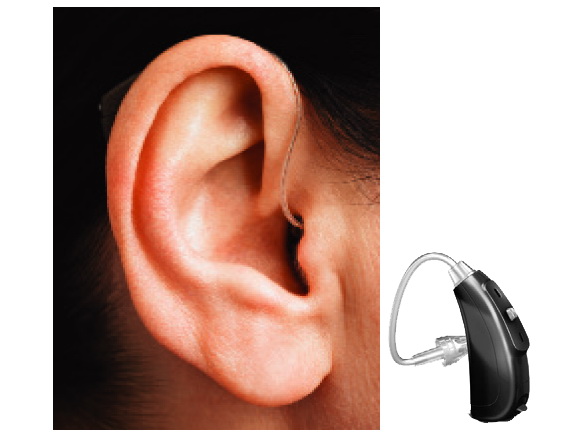 7. Invisible In The Canal (IIC) Hearing Aids:
Invisible In The Canal (IIC) hearing aids are made by taking a deeper impression of the ear canal right up to the second bend. These are practically invisible! IIC hearing aids:
Pros:
Are smaller in size and practically invisible.
Cons:
Can only cover up to moderate hearing loss – owing to the small size of the amplifier.
Are not suitable for those who cannot hear high-frequency sounds, with mild hearing loss at low frequencies. (IICs often cause the 'blocked up' feeling in the ears (occlusion) since the device is too small to accommodate a vent).
Only fits certain canal sizes.
Use smaller batteries.
Have single microphones, as against two which help in directionality – locating the source of the sound.
Are non-wireless – It is difficult to fit a wireless feature owing to the size of the device.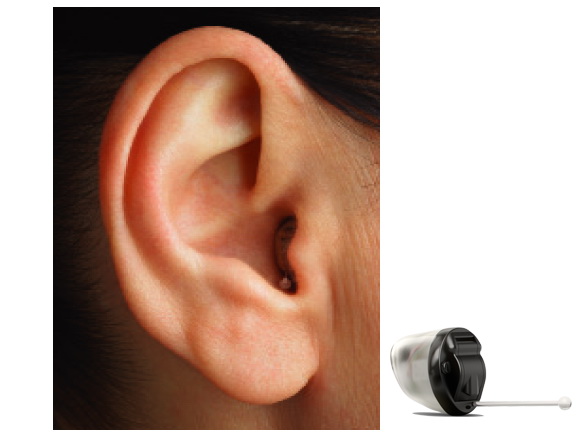 Advances In Hearing Aid Technology:
While the components of hearing aids remain the same, the technology used to amplify sound has progressed tremendously. As of today, people suffering from hearing loss can choose between Analog Hearing Aids and Digital (Digital Signal Processor) Hearing Aids.
Analog Hearing Aids:
Analog hearing aids work by making continuous sound waves louder, amplify all sounds (speech and noise). Some analog hearing aids are programmable, containing a microchip which stores multiple program settings for various listening environments. Analog hearing aids:
Generally, cost less than digital hearing aids.
Are sometimes more powerful than digital hearing aids.
Are preferred over digital hearing aids by longtime hearing aid users.
Digital Hearing Aids:
Digital hearing aids are different from analog hearing aids, in that they convert sound waves to digital signals producing an exact duplication of each sound, instead of just amplifying it. Computer chips are used to analyze speech and other sounds, allowing for more complex processing of sounds during amplification. Digital hearing aids:
Usually, contain more flexible program settings.
Can be adjusted to meet the more specific hearing loss patterns of some users.
May also improve the performance of the hearing aid in certain environments, reducing background noise and white noise.
Is available with wireless solutions such as Bluetooth that enable compatibility with mobile phones, television watching, easy listening in large social events (parties or conference room discussions), and many others.
Choosing the right hearing aid, among the many options available, depends largely on the advice given by a competent audiologist.
At Centre For Hearing, we offer the most comprehensive diagnostic facilities and the latest technology in hearing aids to suit your needs and lifestyle.
If hearing is a problem for you, get in touch with us today – We are listening! Call us on +91 9811227492!