Hearing loss affects people of all ages, which is one of its most alarming characteristics.
In fact, according to research by World Health Organisation (WHO), by 2050, nearly 2.5 billion people are projected to have some degree of hearing loss.
Researchers also indicate that indicates that the likelihood of developing hearing loss increases with age. 
Therefore, it is only natural to be interested in potential remedies when a problem significantly influences a significant section of the population.

While the use of hearing aids is still stigmatised to a certain extent, many people are now beginning to prioritise cures over apprehensions. This also raises the question of whether hearing aids can genuinely stop hearing loss.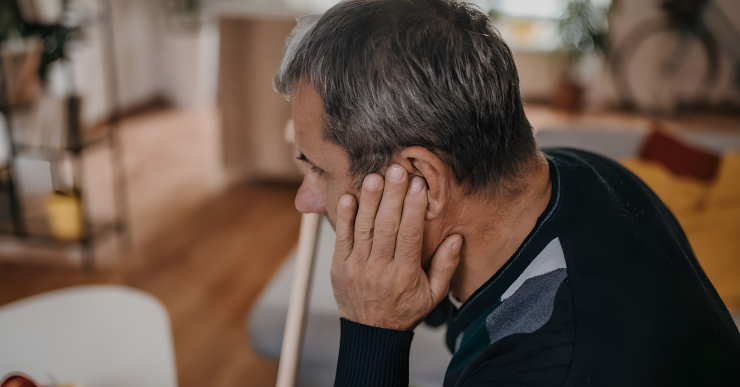 Hearing aids have been a reliable tool for preventing and curing hearing disabilities and related issues. These tools have been upgraded and integrated with the latest technology recently. However, choosing a suitable hearing aid can be challenging, considering the many available options.
This article is a helpful resource for people looking for explanations and direction in comprehending types of hearing loss and whether hearing aids can prevent hearing loss.
Exploring the Spectrum of Hearing Loss: Insights into Various Types of Hearing Loss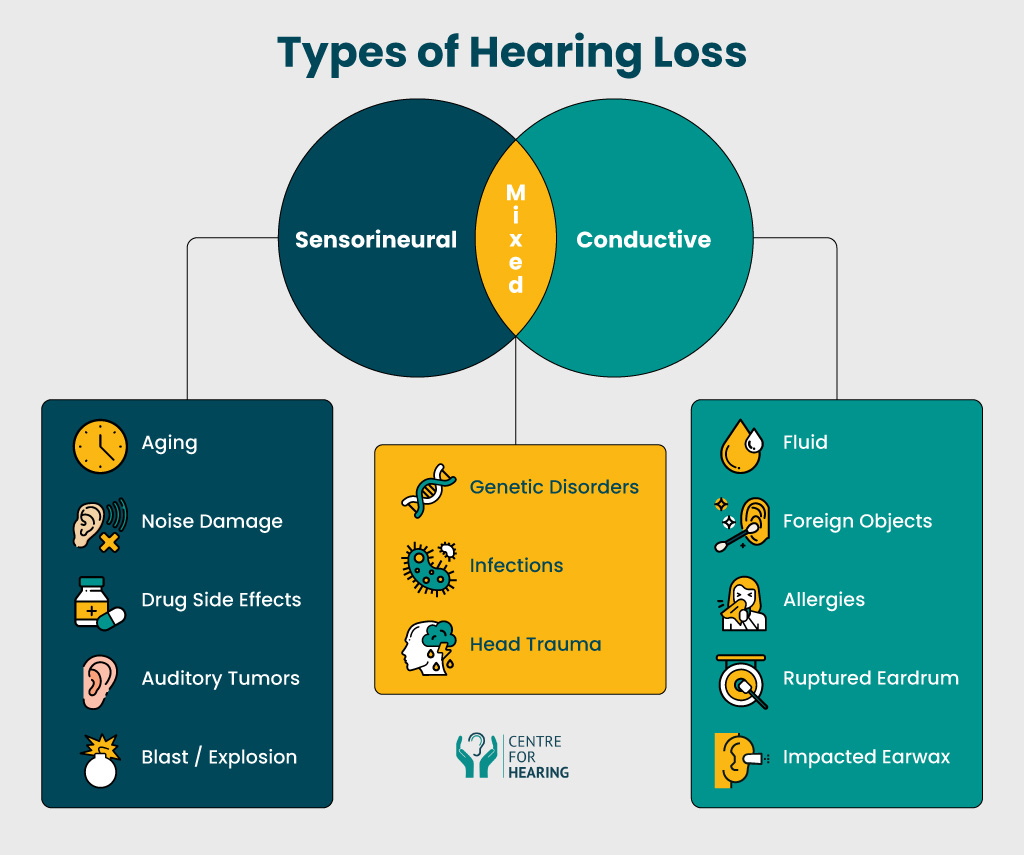 Each type of hearing loss needs a specific strategy to address its particular underlying causes and accompanying difficulties. Only after precisely determining the kind of hearing loss can one implement individualised treatment regimens that maximise their hearing potential and enhance their overall quality of life.
Knowing the kind of hearing loss is essential because it influences the available remedial options and treatment methods. Therefore, it is important to consult a licenced healthcare practitioner who can correctly diagnose and identify hearing loss issues. 
Let's get into the specifics to thoroughly understand the various types of hearing loss and the potential solutions.
1. Sensorineural hearing loss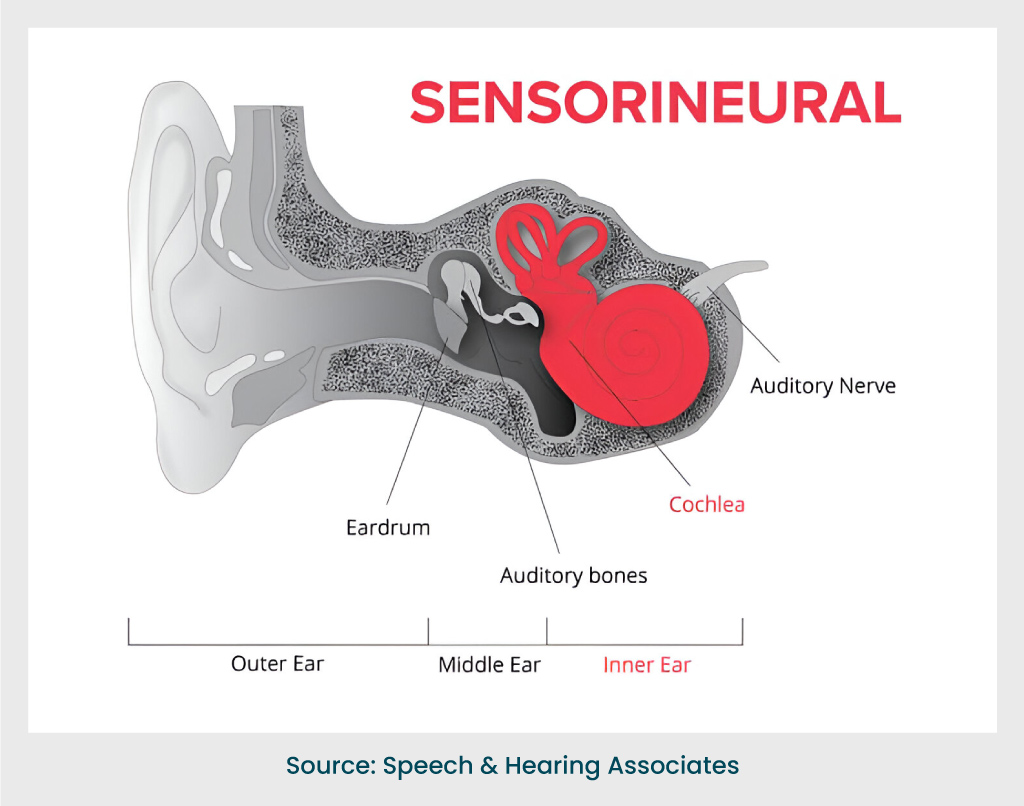 This syndrome can be caused by extended exposure to loud noise, drug adverse effects, or the natural ageing process and often leads to irreversible damage to the inner ear, notably the cochlea. 
While total hearing restoration may not be attainable, modern hearing aids and cochlear implants can substantially improve and help patients restore some auditory abilities.
2. Conductive hearing loss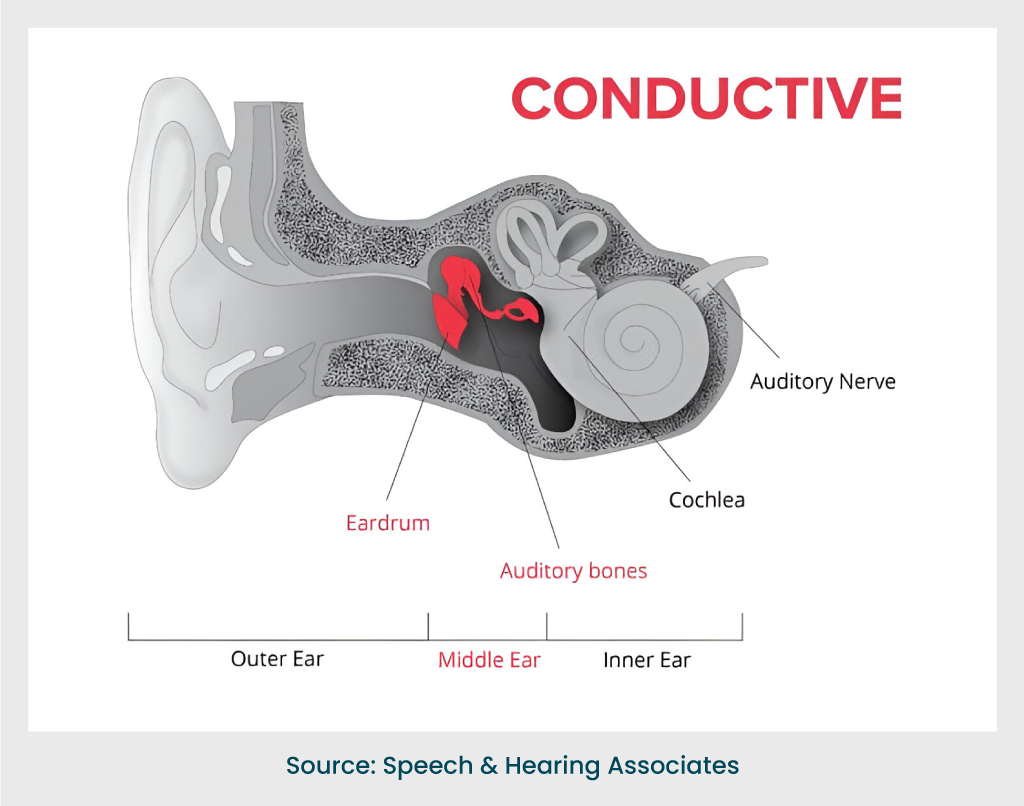 It occurs when sound impulses cannot adequately reach the inner ear owing to outer or middle ear blockages. Excessive earwax, a perforated eardrum, otosclerosis, or ear infections can all be causes of conductive hearing loss. 
This type of hearing loss is most common among children. The probability of revival of hearing in this condition varies from person to person. 
However, hearing aids can sometimes prevent the deterioration of the individual's hearing ability. Treating this condition may involve some surgical procedures as well. 
3. Mixed hearing loss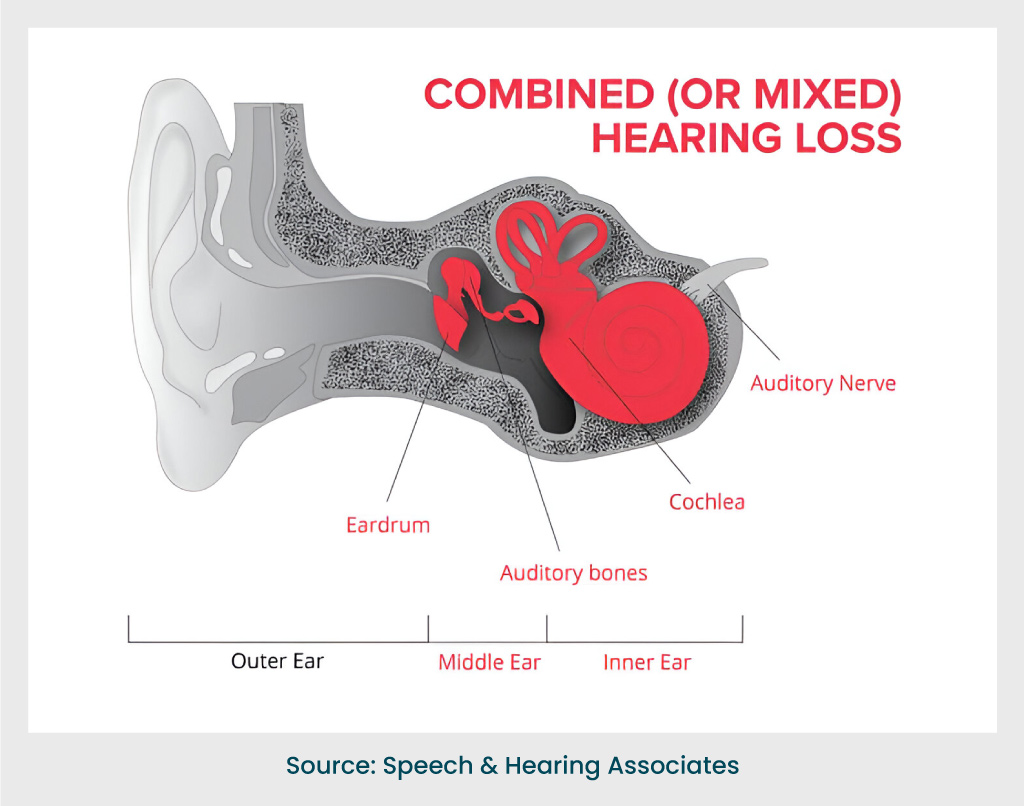 As the name implies, mixed hearing loss combines sensorineural and conductive types and affects the inner and outer ears. The degree of harm may vary, but if both areas of the ear are impacted, the resultant hearing loss can be severe. 
Before pursuing appropriate treatment choices, it is essential to go through tests and consult with a professional hearing care organisation to precisely identify the kind and degree of hearing loss.
4. Auditory spectrum disorder
This condition impairs a person's capacity to perceive and understand received sound signals. Genetic abnormalities or physical injury to the auditory nerves can also cause it. Individuals may have trouble determining the direction or source of sounds in various instances. 
The success of hearing aids in preventing this disorder depends on the individual's specific degree of hearing loss. However, it is crucial to highlight that appropriate treatment, in conjunction with the appropriate hearing aid prescription, can help lessen the disorder's symptoms.
Strategies and Precautions for the Prevention of Hearing Loss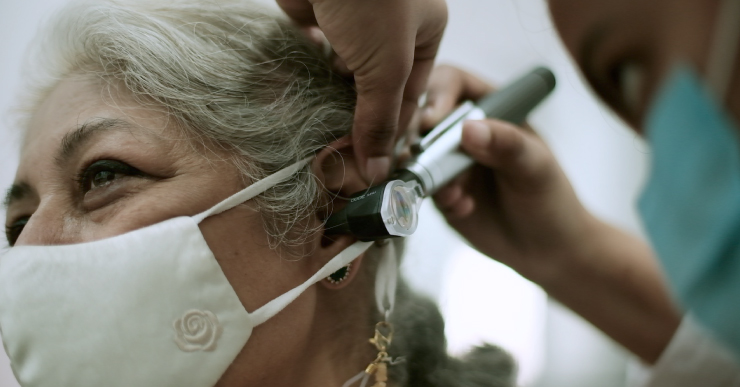 While hearing aids can considerably increase a person's ability to hear previously difficult sounds, it is crucial to recognise that their efficiency varies. 
One of the most important advantages of hearing aids is their capacity to prevent further impairment of hearing ability.
In addition to using hearing aids, proactive actions may be performed to protect hearing for both people with hearing impairments and those without. 
Consider the following safeguards:
Consume media on a lower volume 
Lowering the volume when watching TV or using mobile devices is essential in preventing the onset of hearing loss. 
Avoid exposure to loud environments
Long exposure to loud environments can be damaging to a person's hearing. It is best to safeguard oneself by avoiding or limiting one's exposure to such loud environments.

Shielding/protecting ears
One should adopt a habit of shielding ears with high-quality headphones or earplugs where avoiding exposure to noisy environments is not feasible.

Consulting an audiologist at the right time
If one is experiencing any difficulties with hearing, it is ideal to visit an audiologist rather than avoid an appointment. They are highly qualified professionals who can diagnose and provide appropriate guidance and treatment options.
Experiencing hearing loss can give rise to many queries and uncertainties like which hearing aids to buy, whether hearing aids prevent hearing loss, which agency to consult, and so on. 
Fortunately, many competent clinics in India can assist individuals in dealing with hearing loss. The right clinic will provide you with valuable support and guidance to navigate the challenges associated with hearing loss.
Centre For HearingⓇ – Trusted Hearing Care Agency in India
The Centre For HearingⓇ is a one-stop solution for addressing all the questions and concerns related to hearing loss, including do hearing aids prevent hearing loss. 
Located across India, each Centre For HearingⓇ  clinic is well-equipped to conduct extensive tests and determine the type of hearing loss. Apart from detection, our state-of-the-art hearing care equipment can provide effective treatment. 
For further exploration and in-depth information on various aspects of hearing loss, treatments, and the latest technological advancements in hearing aids, visit our website, explore our valuable  resources, and locate the nearest Centre For HearingⓇ clinic today! 
Clinics at Delhi, Gurgaon (Gurugram), Chandigarh, Jalandhar, Ludhiana, and Mumbai.