In 2018, the World Health Organization estimated that more than 466 million people worldwide suffer from hearing impairment. The number might reach 2.5 billion by 2050, with more than 700 million people needing hearing rehabilitation in some capacity.
These numbers are especially worrisome in India, but there are reasons for optimism. One of them is the availability of effective hearing aids that can change the lives of numerous people with hearing loss.
Before we dive into the details, let us first understand what constitutes hearing loss, what hearing aids are and how they work, and why receiver-in-canal (RIC) hearing aids may be your best bet.
Hearing Loss and Its Impact
Any individual who cannot hear as well as a person with normal hearing – hearing thresholds of 20 dB or more in both ears – is said to have hearing loss. This impairment may be mild, moderate, or severe and may affect one or both ears. Hearing loss limits interactions, learning, and social and professional activities and is often linked to depression, isolation, and deteriorating life quality. In older patients, hearing loss is linked to cognitive impairment, increasing the risk of depression and dementia.
Nonetheless, hearing impairment is largely avoidable and preventable if identified earlier. Several public health strategies and multiple clinical interventions aim to combat this problem.
Additionally, for millions worldwide, hearing aids have become the best option for correcting untreated hearing loss and enabling them to resume a high quality of life. Many behind-the-ear and in-the-ear hearing aids are available to match everyone's preferences and lifestyles.
Receiver-in-Canal or RIC hearing aids are especially popular with users due to their discreet size, comfort, positioning, and versatility.
What Are RIC Hearing Aids, and How Do They Work?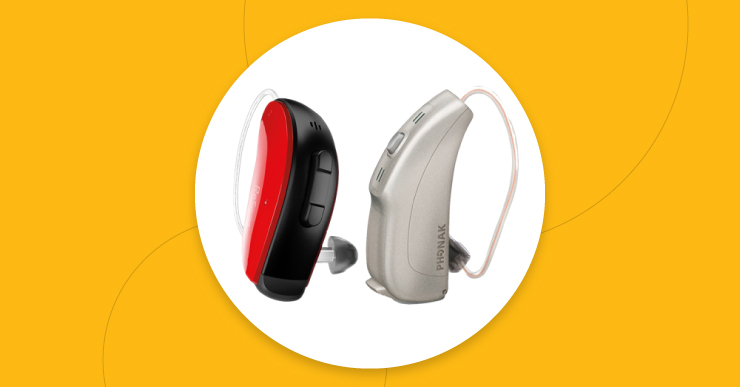 Before we discuss RIC hearing aids and how they work, we'll first need to understand behind-the-ear (BTE) hearing aids. BTE hearing aids are among the most popular hearing assistance devices available. The main body of BTE hearing aids fastens around the back of the ear.
This body contains various hearing aid parts, including a microphone, an amplifier, and a receiver. Hearing aids follow a three-part system:
The microphone receives any sound coming to the ears and converts it into a digital signal.
The amplifier strengthens the intensity of this signal.
The speaker transmits the amplified sound through a narrow plastic tube into the earpiece. The earpiece may be custom-made or default.
With many hearing aid options available in the market, it becomes difficult for patients to determine the type and style that suits them best. The right way to do this is to speak with your doctor and pick a suitable one based on your needs, like degree of hearing loss, comfort, style, and colour.
RIC hearing aids are popular because they amplify high-frequency noise more efficiently than others, making them perfect for any individual with mild to moderate hearing impairment.
Like a BTE hearing aid, an RIC hearing aid hooks around the back of the ear. However, the major difference is that the RIC hearing aid's body does not contain a receiver, only a microphone, and an amplifier. The receiver is positioned inside the aid's ear mould and attached to the hearing aid's body through an electrical wire.
Benefits of RIC Hearing Aids: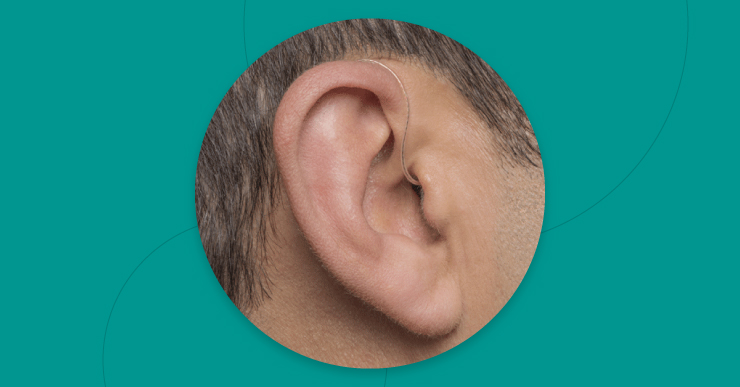 Now, let's look at some of the top benefits of RIC hearing aids that make them a popular choice.
The sound quality is better than any other BTE hearing aid since the receiver is inside the ear canal.
More cosmetically appealing: The instrument goes behind the ear and a thin transparent wire goes down the ear and into the canal where the receiver (or speaker) is not visible.
No occlusion effect: Due to its size and positioning, users do not experience the plugged-up feeling they may get with other hearing aids. They are also available in various colours to match the user's skin tone to make them appear more discreet and hidden.
It is an ideal choice for patients with mild to moderate hearing loss, but multiple receiver power levels can be equipped for patients with more severe hearing loss.
These hearing aids have a longer battery life and also are available with rechargeable technology.
The small body size makes it lightweight, easy to carry, and more comfortable to wear.
While the benefits of RIC hearing aids are known far and wide, it is also important to remember that no hearing aid is better than the other. It is ultimately a question of comfort, degree of impairment, lifestyle, and preference.
How We Can Help
Picking the right hearing aid sounds like a lot of work, right?
Well, you're in luck! We at the Centre for Hearing® are here to help. Centre for Hearing® is an association of leading hearing care professionals across the country who have come together to promote awareness about hearing loss and provide the best treatment and most comfortable hearing aids to anyone in need. We can help you pick the RIC hearing aid that best suits your needs.
Our 50+ qualified audiologists are here to offer you the best advice whether you are looking for prevention, protection, or hearing rehabilitation.
With 200,000+ satisfied customers worldwide, we aim to empower the hearing impaired to lead socially and economically productive lives with our latest technologies and after-care services.
Do you want to learn more about hearing loss, hearing aids, cochlear implants, and more? Contact us today! You can also drop in for a visit. Find the nearest centre here.
Locate a Hearing Aids Centre Near You: