If you have a loss of hearing, then you must understand the importance of a hearing aid and its impact on your quality of life. Thus, it becomes crucial for you to maintain them.
Hearing aids get exposed to moisture through the humidity in the air, sweat, or direct splashes of water, like almost all electronic items, this moisture can damage your hearing aids or lead them to malfunction if not dried regularly.
So, here in this blog post, we will understand how vital it is to dry your hearing aids and how to do it.
How Does Moisture Affect your Hearing Aids?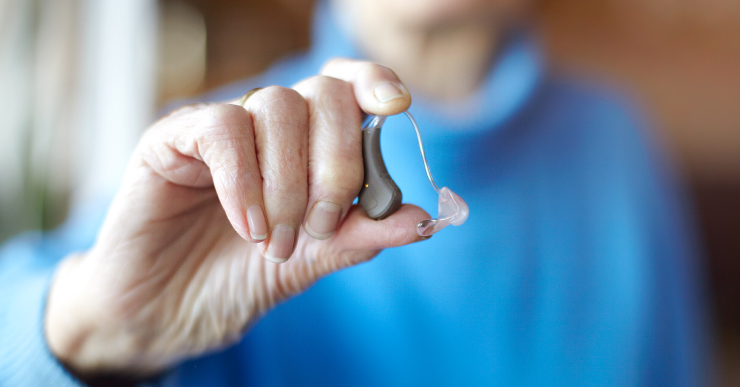 Hearing aids are electronic devices, and like every other electronic device such as computers or smartphones, moisture can cause trouble.
Rather than the water itself, the ions present in the water lead the electricity elsewhere from the device, causing damage. In addition, these ions or impurities can connect to the contact points behind the battery and interfere with the connection.
Moreover, your hearing aid comprises of tiny metal components. These metal components generally bear a protective coating that prevents corrosion by moisture.
Often this coating isn't enough when these components are exposed to moisture for a prolonged period. Many would argue that almost all modern hearing aids have water-resistant properties bearing a decent IP rating.
However, that doesn't make them waterproof except for a few devices such as the Phonak Audéo Life™ (capable of being submerged in up to 50 cm of water).
Thus, it becomes necessary to remember to dry your hearing aids after being out on a rainy day or working through a hot and humid summer day. 
This will ensure that the quality of your hearing aid's performance is not interrupted. But how to do it? Read on to learn.
Tips for Drying your Hearing Aids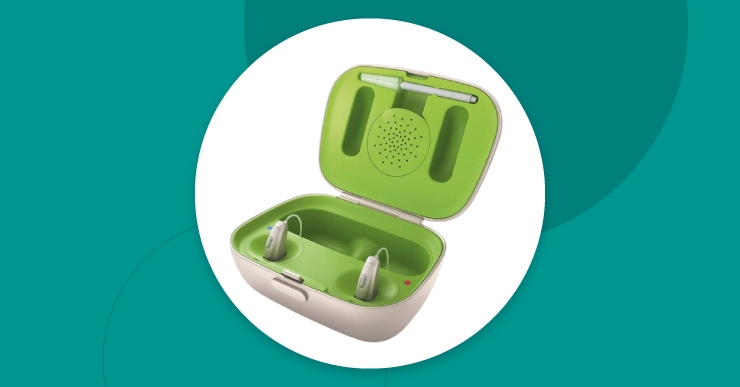 We have already understood how vital it is to remove excess daily moisture buildup to keep the components, sound quality, and the overall functioning of your hearing aids in top condition.
Here are some helpful tips to remove the everyday moisture buildup caused by sweat or water condensation due to hot or cold temperatures:
1. Using electronic hearing aid dryers
Using hearing aid dryers or dehumidifiers is one of the best ways to protect and preserve your hearing aids from moisture damage. These dehumidifiers may come in the form of small electronic boxes that use a combination of air and heat to dry your hearing aids.
Some of them only use air as well. These dryers are pretty easy to use. You need to place your hearing aids in the box, close it up, and push the start button.
They take anywhere from 45 minutes to 8 hours to complete the drying process. These electronic dry kits are even more effective with silica gel pallets or lining.
There are special dryers for rechargeable hearing aids as well. These dryers remove the moisture buildup and recharge your hearing aids all at the same time. This means you'll have a full day of power and completely dry hearing aids after every use.
Also, some dehumidifiers use UV lighting as a bonus that can dry and sanitise your hearing aids.
Where to get electronic dry kits? Contact your hearing aid centre. Almost all manufacturers make these. A hearing aid electronic dry kit costs between Rs.3,000 to Rs.5,000 per unit. A single kit is sufficient to dry both your hearing instruments.
2. Dryers with desiccants
In addition to the electronic ones, hearing aid dry kits work without a power outlet. Instead, these dryers use desiccants in the form of pallets or linings to draw out the moisture from the devices.
These desiccants are essentially substances that are suitable adsorbents of moisture. For instance, most non-electronic dryers use silica gel lining or pallets as the desiccant.
These dryers are handy when there is no power supply around, for example, while travelling.
3. Maintain a daily drying-cleaning routine
So, these are some of the more popular ways of drying your hearing aids. Nevertheless, we advise maintaining a daily cleaning and drying routine for your hearing aids to retain optimal performance.
You can start by cleaning your devices with a dry cloth every night. This will remove any excess moisture, dirt, dust or earwax. Then you can follow up by wiping the battery and the battery door with a dry cloth.
It is advisable to leave the battery door open overnight for your devices to dry out thoroughly. Lastly, always store your hearing aids in a safe place in your bedroom overnight rather than somewhere they could get exposed to moisture.
Thus, it has become clear that keeping your hearing aids dry is one of the most crucial aspects of their overall maintenance. As a result, today, all hearing aid manufacturers provide dry kits in the packaging as default, again exemplifying the importance of keeping your hearing aids dry.
How We Can Help
If you still have any more questions regarding the maintenance of your hearing aids, we at Centre for Hearing™ will be more than happy to cater to your queries and concerns.
We are an association of leading hearing care professionals across the country who strive to promote awareness among the consumers and professionalism and good practices among the dispensers.
Our team comprises RCI-registered hearing care professionals that are qualified and experienced audiologists. They will offer you the best advice for your hearing covering every aspect.
We also provide all different hearing aids and cochlear implants equipped with the latest technology from some of the country's leading manufacturers.
Thus, if facing hearing issues, you can book your free telephonic consultation, ask us for a call-back or simply call us on +91 9811227269. You can also choose to visit us at our nearest centre.