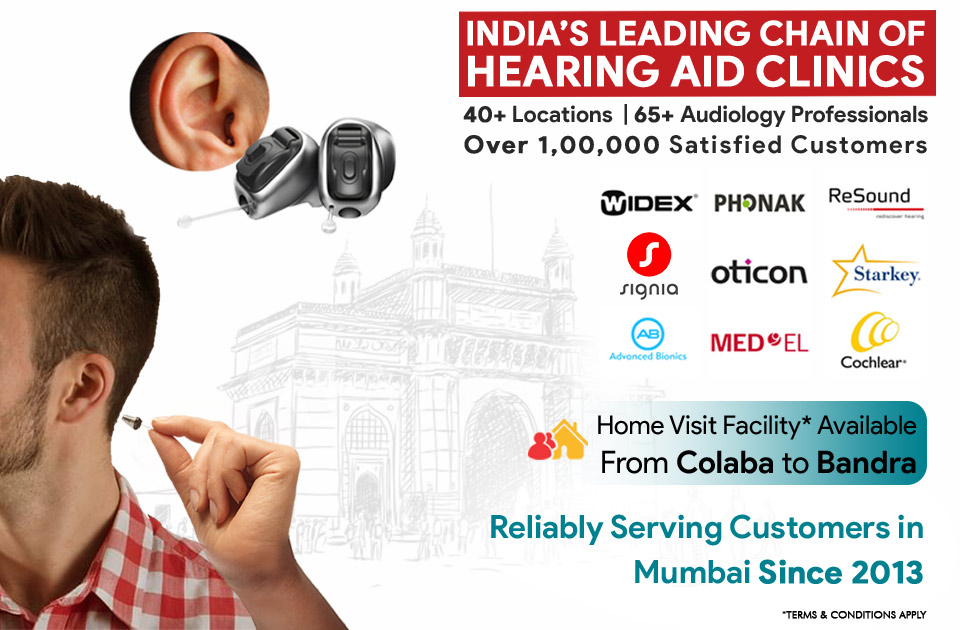 Know About The Latest Hearing Aids & Get The Best Hearing Aid Offers For You








50+ Certified Audiologists


1,00,000+ Satisfied Customers


Hearing Aids At Best Prices




I would recommend them. They have a good panel of hearing specialists who are focused on helping you out instead of just trying to selling you a hearing aid.
I live abroad and bought a CareFree package for my mother which included services and batteries for next 5 years without any headache. Nobody else even offered such an option.
I was very happy with their services. They do a thorough hearing test and only then recommend the next course of treatment. The staff was very respectful towards my dad.
They offer all types of hearing aid solutions and don't just push products they want to. I would really recommend them to anyone looking for hearing aid and hearing specialist services in Mumbai.
Most reliable, unbiased advice regarding hearing aids.
My mother couldn't travel to their branch. So they arranged for a home visit. I really like the professional attitude and the way they counsel and guide not just the patients, but even their family members.
 WARNING:
Digital Hearing Aids must be purchased through authorized and trained Hearing Care Professionals. Instruments bought through e-commerce or online stores are not recommended, nor do they carry any warranty from the manufacturer. Find our professional near you.
Centre For Hearing offers the best and latest hearing aids and ear machines across leading brands in Mumbai, Delhi, Chandigarh, and rest of India. Speak to highly experienced and reliable audiologists for the correct diagnosis and treatment of hearing problems. Get in touch with Centre For Hearing today!
With over 40+ years of experience, 50+ RCI certified audiologists and 1,00,000+ satisfied customers across India, Centre For Hearing offer state of the art diagnostic and treatment facility, which is extremely reliable and trustworthy.
Are you or someone you know suffering from hearing loss? Speak to us, We are listening.
Centre For Hearing
Shop No. 23, Devdarshan CHS, Mogul Lane, Mahim (West)
Mumbai, Maharashtra 400016
Centre For Hearing
Shop No. AS 10, Anand Nagar CHS, Forjett Street, Opp. Bhatia Hospital,
Mumbai, Maharashtra 400007